There are many people who go on about farm prices rising to some sort of crazy price due to some combination of the growing world's population, declining returns on new farming techniques, changing weather patterns and overuse of resources like underground aquifers. While I am not in the Malthusian camp—I believe that human ingenuity will usually triumph over human stupidity—I certainly think that the last few decades of abnormally low farm prices are an anomaly. If you look at the prices of agricultural products compared to inflation, the price of gold or any other standard store of value, you will see just how cheap things like wheat, corn, soybeans and cotton are. In human history, they have rarely been this cheap for long, before prices rise a bit in order to attract increased investment. When people talk about investment, they are usually talking about modern mechanized farming.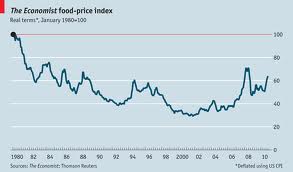 The new industrialized scale farms use extensive irrigation and fertilizer, hybridized seeds, and the newest equipment for planting and harvesting. The bigger the farm gets, the better the economics become, and this is because of the economies of scale that are gained with newer techniques. I am of the belief that if farm prices remain elevated for the next decade or two, farmers will pay down debt and have excess capital to reinvest in their production techniques.
I have spent a long time looking for a way to get exposure to this trend; however it has been very difficult to find a true play on higher agricultural prices being the 'new normal.' Welcome to Titan Machinery Inc. (TITN: Nasdaq), which is the largest distributor of Case New Holland (CNH) farming machinery in the North America. CNH is the number two manufacturer, after John Deere, of farming machinery in the world. When farmers need new equipment, they really have two choices, John Deere or CNH for the vast majority of North American sales. Once the equipment is in the field, it needs constant servicing and maintenance. The dealerships that sell and service this equipment will do very well—especially as new equipment increasingly gets more complex and in need of more specialized care. TITN owns and operates 111 dealerships and that number is growing rapidly through new openings and acquisitions.
From 2004 to 2012, TITN has grown sales and earnings by 43% and 116% per year on average. Those are some VERY impressive numbers. This growth has come both from acquisitions and from pure organic growth at existing stores. I should point out that when TITN purchases an existing CNH dealership, they tend to get a very low purchase price (there aren't many buyers, and dealers looking to retire are looking to sell). TITN then increases the sales and profitability of the location through better operations and being part of the TITN network.
Titan Growth

| | 2004 | 2012 | Change |
| --- | --- | --- | --- |
| Revenue | 97,455,000 | 1,658,992,000 | 17-fold |
| Profits | 164,000 | 44,160,000 | 269-fold |
Recent Earnings Growth Since IPO

| | 2008 | 2011 | % Change |
| --- | --- | --- | --- |
| Revenue | 432,971,000 | 1,658,992,000 | 283% |
| Profits | 5,213,000 | 44,160,000 | 747% |
| Earnings Per Share | .90 | 2.18 | 142% |
Last year, TITN earned $2.18 a share. Book value is $15.50 and revenues this year should grow at least 25% over last year's earnings. The company is a growth machine, so why is it trading at only 10 times last year's earnings and an abnormally low multiple to book? A funny thing happened with the weather this year—drought. It was so bad, that I even heard about it in Mongolia. What happens when there is a drought? Farmers don't use their equipment as much and they are more hesitant to buy new equipment as they are unsure of their profits for the year. While this is obvious to me—and I don't even farm—it seems to have caught most of Wall Street off guard—what else is new? In any case, the shares dropped 30% in the past month on this news—giving more patient investors like myself a chance to invest at bargain prices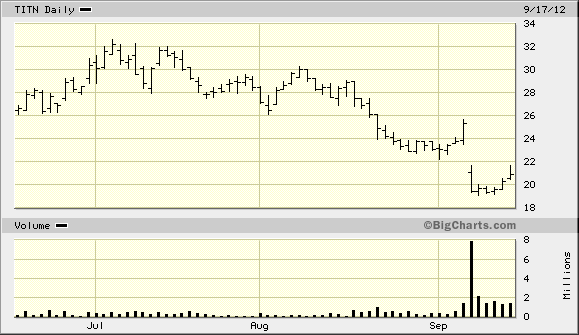 When the company IPO'd in 2007, it traded at 12 times earnings and immediately shot up to 30 times earnings. I wouldn't have bought shares there. Now, the growth story is similarly intact, but you can now buy the shares at 10 times last year's earnings and about 9 times this year's expected earnings. If the weather goes back to being normal again next year, I would expect that earnings would go back to normal as well. What if they earn $3.00 a share next year? Is the multiple only 6.5 times? I have made a long career of watching truly great businesses, with long term macro tailwinds that always seemed to be too expensive to invest in. Eventually, you usually get a bad quarter to get in—and get in at a great price. A bit of drought seems to have created this opportunity, and I have taken it.