My friend Chris Mayer continued his journey through Myanmar. If you missed Part I, click here. If you want to visit the Capital & Crisis website, please click here.
"This is a market of 65 million people where everyone is basically at the starting line. There is no other market like this."
— Masaki Takahara, managing director of Jetro (a Japanese trade organization), on Myanmar
If there is one word to capture the potential for tourism in Myanmar, that word would be "Bagan." (Pronounced "Bah-gahn.")
Bagan is an ancient city, the home of medieval kings who ruled what is today Myanmar beginning back in the ninth century. In the 13th century, Kublai Khan's Mongols swept through and that was the end of that.
But during its glory days, Bagan was the site of a pagoda building boom that lasted for centuries. Devout Buddhists as they were, the medieval kings believed building pagodas atoned for their sins. They must have been a sinful lot.
(This reminds me of a snatch of dialogue from George Orwell's Burmese Days:
"'Ko Po Kyin,' she said, 'you have done very much evil in your life.'
"U Po Kyin waved his hand. 'What does it matter? My pagodas will atone for everything. There is plenty of time.'")
The result of the building boom is a place the likes of which exists nowhere else on earth.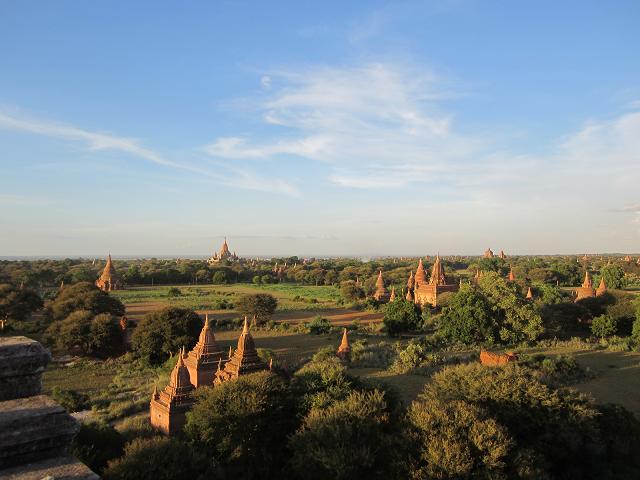 "The plains of Bagan — like nowhere else on Earth"
I took this shot from one of the pagodas, the steep steps of which you can climb up and command stunning views. There are thousands and thousands of pagodas, monasteries and temples in Bagan.
I searched my pictures for the best one, but none of them does the place justice. For as far as the eyes can see in any direction, there are stupas poking out from the surrounding forested plains. It's a fantastic vista, one of the best I've seen in my travels. Someday, this will be a must-see on the tourist trail in this region, right alongside the great temples of Angkor Wat in Cambodia.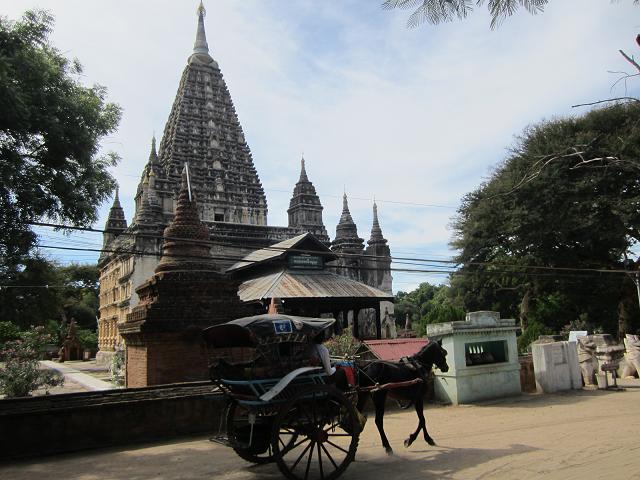 "Bagan — a snapshot of an Asia frozen in time"
Along with my friend Lawrence Mackhoul of Leopard Capital, we took off from Yangon to Bagan to have a look around. One day, we set out late in the afternoon to watch the sunset over the pagodas, which we heard was the thing to do.
We did not find many tourists out and about. In fact, it was locals who sat on a pagoda with us watching the sun go down. One teenager asked if he could take a picture with me. Of course, I agreed. A buddy of his snapped the photo of the two of us — my 6-foot-2-inch frame towering over him. It was as if that moment broke the ice. After that, Lawrence and I sat for six or seven more photos as locals huddled around us. We became part of the attraction.
It was a charming episode, and I am sure it will all be different in another year or two when the busloads of tourists arrive. Take a look at this chart from CLSA, which shows tourist arrivals in various Southeast Asian countries: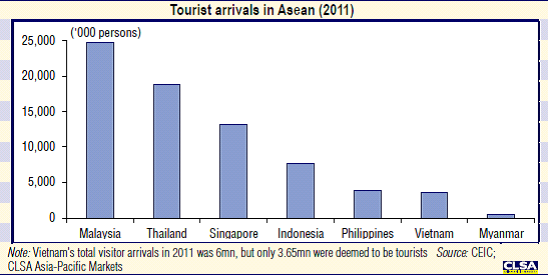 Even Laos (not shown) has three times more tourists visit annually than Myanmar. With attractions like Bagan, I can't see how this won't all change.
But there is much more to see in Myanmar beyond Bagan. We also visited Mandalay, a city of a million people north of Yangon on the banks of the muddy Irrawaddy River. This is the main commercial hub for Upper Burma. We hooked up with my friend Doug Clayton, the head leopard at Leopard Capital, and visited several local businesses.
This was an eye-opening tour in itself: a weaving shop where men and women worked at hand-powered looms, another shop where women made embroidered cloth and men hacked away at various carvings and furniture pieces.
My favorite was a gold leaf shop, where we saw young men hammer away at gold pieces for hours and hours to make superthin gold leaf. Nearby, women sat and shaped the gold leaf by hand into little squares. These little squares once were money. They were small and easy to carry and divide. Today, Myanmarese use them to decorate statues and the like. But gold is still a preferred method of savings in Myanmar. Few use banks. As in most such markets, gold and real estate are kings.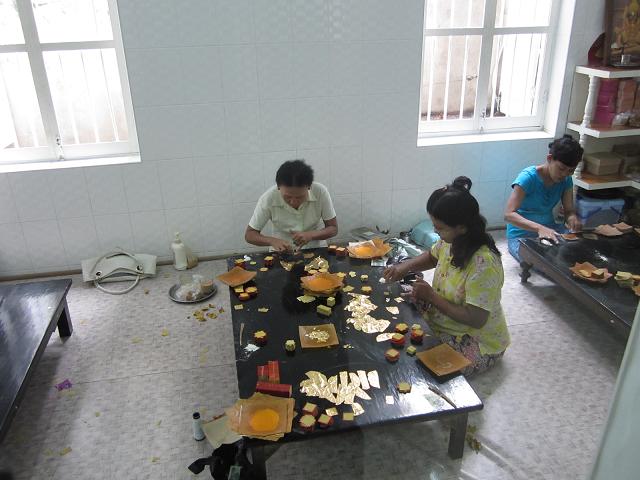 "Women shaping gold leaf"
Mandalay itself is not particularly glamorous, despite how the name might resonate with you. It's dirty, crowded, hot and humid. There were lots of motorcycles — in contrast to Yangon, where they are banned — and the city reminded me somewhat of Saigon.
Outside the city of Mandalay, though, you find yourself again swept back into the old Asia of storybooks. The lush green landscapes, quiet rice paddies and bright pagodas. A lone white egret stirs as a horse-drawn cart clatters down a dirt path…
Then, you are free to wander around landscapes like this: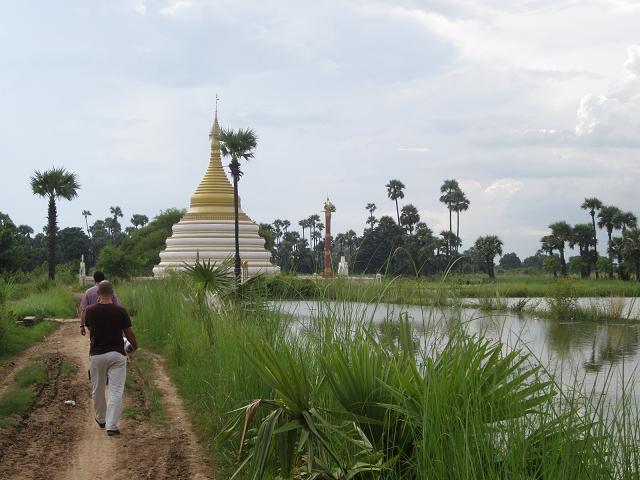 "A walk through the old Asia of storybooks"
It's cheap to travel outside of Yangon. We stayed at the Mandalay City Hotel, which is not far from the palace in the center of town, for $56 per night. It was decent and clean. What I remember most is getting a 5 a.m. wake-up call from the local muezzin, whose call to prayer seemed to be blaring out of the next building.
From Mandalay, we went to Thandwe, which is a seaport on Myanmar's west coast. We wanted to visit Ngapali Beach, which we heard is the country's best. Myanmar has over a thousand miles of pristine beaches. The famous Thai beaches, such as those at Phuket, share the same peninsula and even, by a quirk of national border drawing, the same side of that peninsula facing the Andaman Sea.
It struck us how the Thandwe airport was right on the water — prime real estate! Only in a nonmarket environment could someone put an airport there. Anyway, we must've visited every resort in Ngapali trying to get a sense for how far Myanmar has to go. Most were pretty nice. We tried to imagine how it might develop.
We stayed at Sandoway Resort, which as far as we could tell, was the best of the lot. We had a fabulous room for only $140 per night, which included a kingly breakfast of fresh fruit, fresh-baked croissants ("These are better than what you get in Paris!" Lawrence remarked) and more. This was a world-class resort. The landscaping was immaculate. The service was excellent. And the white sand beaches were virtually deserted.
The local rum was only $2 a glass. Not a bad way to end the trip.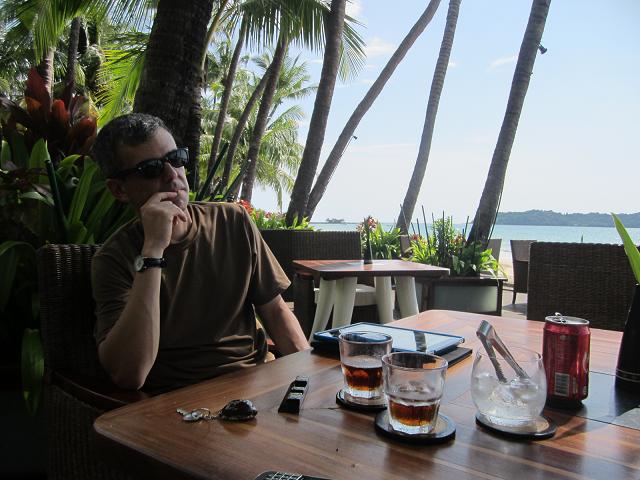 "Your editor, enjoying the local rum… and wondering what it all means."
We would end our trip in Ngapali, as our money was running out. Since we had to pay cash for everything in country — and there are no ATMs and credit cards count for so much plastic — we had to juggle what we brought. We would both leave Ngapali with less than $100 to our names. (Given the propensity of the locals to reject anything but near-mint currency, for a while we were wondering what we would do if we ran out of money. We would start hawking stuff, we figured. "I'll give you this camera if you take us to the airport…")
In closing, it was a great trip. The country has a lot to offer, and tourism is an easy winner here. There is much to see and enjoy. I saw only a fraction. There are still the Himalayas to the north, hundreds of islands in the Myeik Archipelago further south, river cruises on the Irrawaddy, the floating markets at Inle Lake and much more.
The trip affirmed my bullishness on Myanmar and my wish to find some way to capitalize on the transformational changes taking place.
I'll have more on Myanmar in your next letter.