Decades ago, index funds were created with the view that many stock pickers have no real ability to pick stocks—therefore, those people would be better off simply owning an index of stocks and receiving the performance of the overall stock market. Since then, studies have shown that index funds have outperformed the majority of actively managed funds. There are now index funds and ETFs that track all sorts of things and allow investors take a view on a sector and simply allocate capital—without ever knowing what they are actually investing in. This is all well and good, but at what point does indexation simply become socialism for stocks?
Think of it this way, as the indexing movement has grown, so have the assets under management—leading index funds to become key factors in access to capital. You now have really bad companies that have overstated market valuations, simply because the index has to buy it—yet you have high quality companies that should get access to capital, but are starved because they are not in the index, or not in the index at an adequate weighting. In the real world, we call this socialism—basically starving the strong in order to prop up the stragglers. In the investment world, this is called indexing.
Rather than continue to bemoan modern portfolio theory, I'd rather focus on how this shift in asset allocation will create opportunities. No chart better illustrates this than the performance of Banco Espirito Santo 2023 Subordinated Debt.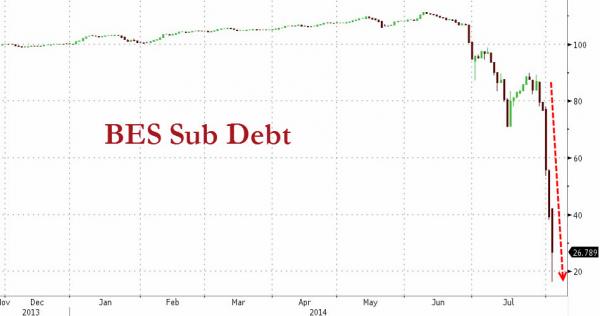 Does anyone not know that European banks have issues? Does anyone actually believe that the European financial crisis is "solved?" Any proper perusal of the financial statements would tell you that many European banks have "issues." Banco Espirito Santo didn't suddenly have a problem—it has been troubled for a very long time. The difference is that about four weeks ago, a payment at the parent company was missed and someone suddenly noticed that the problems mattered. Look at the chart above—the sub debt traded over par, just 5 weeks ago!! That is what happens when the financial system is managed by indexers. They simply buy what they're told to buy—they do no research. If it is in the index, they need to own it, and we all know that bonds have been a very hot product with lots of inflows over the past few years.
How do you make money off of this? The key is research and knowledge. The good news is that all sorts of assets are mispriced. In the past, these would be mispriced because humans made mistakes in valuing them. Now they're mispriced because they are part of a big index and some computer keeps buying them—creating a situation of overvaluation. Or they aren't yet part of the index and no one knows they exist.
An 80% gain in a month from having realized that a debt payment at a parent company would be missed, is a huge gain. There are more gains like this out there. Keep searching.
I have no position in any Banco Espirito Santo assets.