Everyone is asking: "Is this is the right shoulder in oil?"
I know, I'm not a chart guy, but I certainly respect charts for entry points. Sentiment on oil is awful. Inventory is high. Refined inventory is off the charts. New supply is expected from all sorts of countries. Yeah, I've heard it all, but so have the charts. Here we are, and it sure looks like oil is forming a 2-year inverted head and shoulders (H&S) reversal.
Look at the S&P Oil & Gas Exploration & Production ETF (XOP:NYSE) for the past 6 months. When oil took a $10 drop in July, the XOP barely even flinched. In my experience, when you're coming out of a commodity bear market, the producers tend to lead the commodity higher.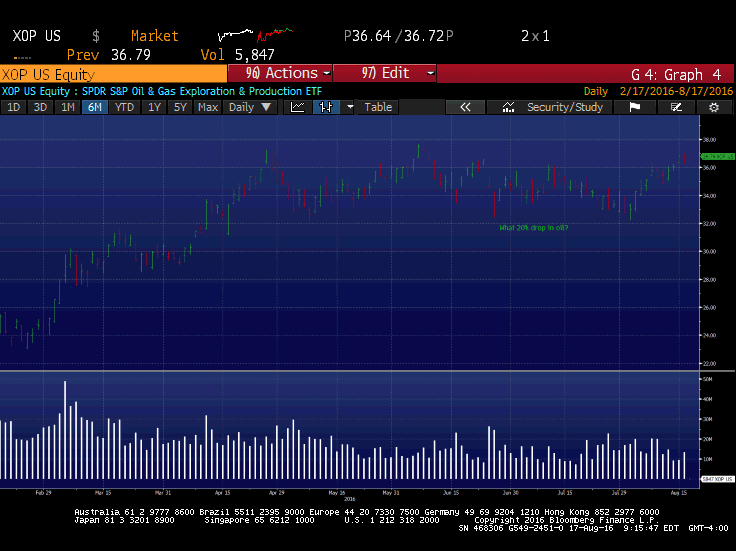 It's been approximately 2 years since oil began its slide from nearly 100. A lot has changed at the producers and it makes sense that they're starting to outperform. They've dramatically cut costs, reduced exploration spending and focused on debt reduction. The survivors now have stronger balance sheets. Plenty of their brethren didn't make it.
If you think oil is coming back, you can go and chase these producers, but there's a sector that really interests me and that is the oil services sector where many sub-sectors are still bouncing along their multi-decade lows—or making new lows as I write this. Many of these companies have just reported awful quarters. Their businesses are down dramatically, their cash flows are a mess—many of them are blowing covenants and some even have scary "going concern" notices in their financials.
Why shouldn't these companies suffer? Producers are focused on paying down debt—they're doing everything possible to stop spending. However, if there's one thing that I know about the oil companies, it's that they'll start to spend if oil starts to rally. They can't help it. That's what oil companies do. De-levering is boring.
I'm not going to tell you that buying highly leveraged service companies with covenant breaches and revenues that are down by half in the past year is a "sleep well at night" sort of investment, but I think that a basket of them can be. I bring this up, because many of these companies trade at less than 20% of book value and book value is mostly made up of equipment that is only a few years old. Heck,some of the offshore service companies trade at less than 10% of book. Even better, many of these companies have already taken a few rounds of impairments to their book value. Hence, true replacement value is even higher. Sure there's debt, sure there are going to be hiccups and a few more scary quarters, but these guys have also been cutting costs for 2 years. Plenty of competitors have already failed and been liquidated. If there's going to be a bounce-back in business it will flow to the survivors' bottom line in a hurry. If that happens, I don't see why these service companies can't trade back to book. In fact, for most of the past few decades, they've traded at a premium to book. I don't want to name names, because I'm pretty sure a few companies in my basket will go to "oil services heaven" but if I'm right, a few 10-baggers will balance that out. The question then is: "Is this really the right shoulder?"