I don't attend a lot of investment conferences as I prefer visiting companies on their home turf —you learn more that way. However, the LD Micro Invitational is "special" and after having missed the last few, I felt compelled to attend last week's and get an update on the state of micro-cap investing (I define micro-cap as companies trading for under $50 million market cap). Besides, where else can you gain access to almost 200 undiscovered companies, knock off a dozen 1 on 1's and drink all the free Bulleit Rye Whiskey that you can handle? Even better, there were over a thousand institutional investors there—many of whom I hadn't seen in ages. When I wasn't watching presentations, I was being taken aside to hear why certain activists thought they deserved my votes; while being appraised of their plans should they unseat management. It's the sort of networking opportunity that you cannot replicate—over 3 amazingly busy days. Even better, the size of the conference has grown dramatically since I last attended—clearly interest is returning to the micro-cap space.
If you'll remember, back in 2014, I wrote about the difficulties of being a micro-cap company. In many ways, my view on micro-caps hasn't changed—if you do not intend to raise capital or use your shares as currency to buy someone else, you shouldn't be public until you hit a certain scale. Even then, you are at a tremendous disadvantage when compared to more mature companies.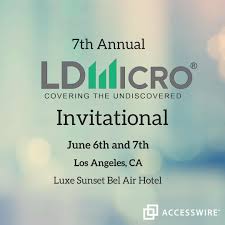 Fortunately, at LD Micro, I learned that the world of micro-cap investing is finally changing for the better. Reg A+, the JOBS act, dramatically reduced public company costs and continued deferral of Sarbanes-Oxley have levelled the playing field somewhat for micro-caps. It's cheaper than ever to come public and cheaper to stay public. While being public is still expensive, it is becoming more manageable.
If you look at micro-cap equity indices, most of these stocks have dramatically underperformed the broader markets for the past decade. This is largely the result of cash flow getting diverted towards public company and compliance costs, instead of productive investment. If these costs are now declining, micro-caps may resume their long-term history of outperformance when compared to larger companies. 5 years ago, it cost an incremental $1 million to be public in the US as compared to being private. Now that figure is probably closer to $250,000. That's a huge savings for a company with only $1 million in EBITDA—it's an incremental 75%!!!
Even more importantly, the days when a CEO could siphon off the majority of cash flow are largely over. Before, it was too expensive to mount an activist campaign on a smaller company and too hard to reach out to like-minded shareholders. Now, proxy costs have declined and it's easier than ever to contact and canvas shareholders for their proxy votes. Shareholder capital will once again be invested in the business, instead of the CEO's lifestyle.

Smaller companies often still suffer from illiquidity and reduced access to capital, but even here, the story is changing. After years where brokers largely ignored them, I have seen an increase in smaller company offerings—especially as the costs of registering securities have declined. In fact, quite a number of firms have seized on the opportunity of underwriting $2 to $10 million offerings in a universe where very few other brokers previously competed. As conferences like LD Micro grow, it's attracting new investors, which further increases liquidity. Liquidity, in turn increases the ability to raise capital. It's almost self-fulfilling.
I'm not going to say that it's universally time to dive into micro-caps, every situation is different, but the playing field is once again tilting towards a balance where smaller companies can access the public markets for capital. The explosion in Reg A+ filings, an offering type that I didn't even know about before last week, is an indicator of just how much pent up demand there is for small companies to come public and grow. After watching the number of US public listings shrink consecutively for years, we may be at an inflection point as companies once again go public for the right reasons—raising capital and growth.
The micro-cap space has once again become interesting—those who can sift through these companies are bound to find very interesting opportunities.