If the definition of insanity is doing the same thing over and over and expecting a different result, the guys leading Stage Stores (SSI – USA) would clarify as clinically insane. Why did anyone think that consolidating a bunch of struggling department store chains in rural America was a good business idea? A quick look at the stock chart over the past decade would tell you it isn't working. Even better, go to their website. It looks like something I built in the late 90's on GeoCities. This stock has slowly melted and it shouldn't be a surprise why.
If the death of yet another department store chain was my thesis, I wouldn't have woken up early to write this. Instead, these guys appear to have struck gold—retail gold. As we are well aware, retail is dying, unless you're an off-price retailer. Look at the charts of ROST, FIVE, BURL, OLLI, TJC, etc. They've been absolute monsters. My new mantra is to only invest in Global Micro trends. Off-price retailing certainly checks this box.
Usually, off-price retailers replace someone else who's gone bankrupt. In the case of SSI, they're effectively undertaking this process internally, by eliminating all five of their dying brands (Beals, Goody's, Palais Royal, Peebles, Stage) and replacing them with Gordmans, an off-price retail chain they control. As Gordmans don't exist in Miami, I reached out to a mid-western friend who politely described it as "a garage sale, but with all the class of a Dollar General." Yeah, I was surprised to learn there are snobs in the mid-west…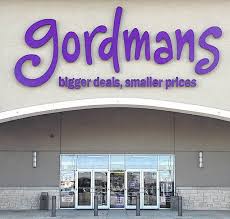 None of this matters because the 89 newly converted stores from 2019 are comping nearly +40%. That's unheard of in retailing—though its likely from a low base (have you ever known anyone who shopped at a Beall's?). The off-price stores carry less inventory, have similar margins to legacy stores and operate with much lower SG&A. They're minting money. Thus far, they have converted roughly 150 stores to Gordmans. There are roughly 550 to go and SSI intends to complete the process by the end of 2020. SSI is also near death and has no cash, so it's fortunate that it's cheap to convert to an off-price store. Assuming the rest of the stores are even close to as successful as the existing conversions, SSI's market cap at $100 million is simply wrong. That pencils out at roughly .05 times revenue. For a point of comparison, ROST is at 2.5 times revenue. Will the new Gordmans stores be as successful as the other off-price retailers? Of course not. Will it improve dramatically over the existing SSI metrics, probably.
For me, this is a trade, not an investment. If you assume that comp sales keep ticking along and new conversions even sort of mirror comps from the 2019 vintage, the market will give these guys a pass on earnings, one-time charges for transition and pretty much anything else. 40% comps are just unheard of. Off-price retailing is one of the few hot sectors in retailing. The rest of the cohort trade at insane valuations even though off-price is increasingly becoming saturated. I sort of figure the market will give SSI a healthy valuation too—even if the plan only sort of works out.
In the case of SSI, 61% of stores are in markets with less than 50,000 people and 72% of stores are in markets without off-price competition. I don't know, but maybe being the only off-price retailer in shitsburg has a natural moat to it. What else is there to do in these towns but look for bargains? If these guys come out with another quarter or two of good numbers, the market will re-value the stock dramatically. Insiders certainly think so, they keep buying.
I know, this is a terrible thesis and even worse write-up. I wanted to push this out fast. I genuinely believe that the market missed the news yesterday. Hell, no one even asked a question on the earnings call. Sure, the stock was up a bunch, but it should have been up a whole lot more. If the plan to convert all the stores to off-price stores even sort of works, SSI could be a home-run from today's prices. Then again, stocks at $3.50 don't usually work out and this one has a whole lot of debt as well. In any case, the evolving story of SSI, what little is known, is quite compelling and I bought a whole lot of it yesterday.
Disclosure: Funds that I control are long SSI
If you enjoyed this article, subscribe for more at https://adventuresincapitalism.com