Yeah, I know. The past few weeks have been miserable for tanker longs. As a good friend keeps reminding me, "Tankers take the escalator up and the elevator down." He should know, as he's been investing in shipping since long before I was born. At moments like this, I like to analyze what has changed and see if the thesis has been altered. Let's look at some key variables at play:
Seasonality– In the fourth quarter of 2019, tanker stocks picked up a cohort of hot-money investors that knew little about tankers. These investors took spot Time Charter Equivalent (TCE) rates, plugged them into models and realized that most tanker stocks traded at less than one times cash flow. Furthermore, they figured that IMO2020 created Irving Fisher's "Permanently High Plateau." No more prophetic words would ever be uttered in equity markets or the shipping sector.
Look, shipping is seasonal. If you didn't realize this, you didn't do your job as an equity analyst. What matters to shipping isn't today's charter rate compared to peak rates in early January 2020—it's the rate today compared to prior years. If rates today are up over the first week in February 2019, tankers are in a bull market. I only get concerned if rates drop below prior year levels. People like to focus on the VLCC as a benchmark, so I will as well. With recent TCEs at the $35-45 thousand level, we're at least $10 thousand over 2019 levels, which themselves were up a good deal from 2018 levels. This is huge, especially when you consider that we have Coronavirus and the Cosco vessels returning to the market at the same. Tankers operate all twelve months of the year—it is the annual average realized TCE that matters, not today's rate. If you have visibility into average annual rates, you have visibility into earnings—the rest is just seasonality—hence noise.
I also like to focus on 5-year vessel values and 1-year time charters. Both are up materially over prior years. This shows that the big money guys, the guys who charter these vessels for long periods of time and have access to reams of internal data, think that rates stay elevated.
Despite these facts, we have the hot-money types (hedge funds, twitter bros, algos, etc.) all cuing off the greater than 50% decline in rates since peak levels last month—they are freaking out and I suspect they'll regret their sales.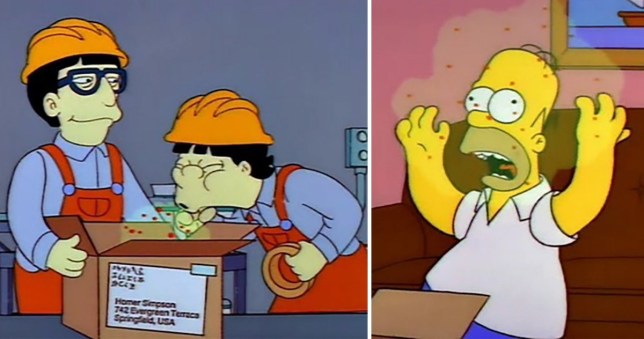 Coronavirus– Look, this is something of a "black swan." No one could see it coming. There's a not zero percent chance that we all die of Bioengineered-Wuhan-Zombie-Bat-Flu. In that case, my tanker longs become someone else's problem. However, I like to deal in the world of probabilities—therefore the SARS outbreak in 2003 is a useful template. We'll see something of a reduction in Chinese commodity demand over a few-month period, followed by the sort of stimulus that would make our own Federal Reserve blush. What do you think happened to Chinese commodity demand from 2004 onward? Yeah, Chinese stimulus will make the periodic table catch a bid and someone has to move this stuff.
COSCO Vessels- If you didn't think these 26 COSCO vessels would return to world trade, you're a moron. The question was a matter of when, not if. Tanker rates spiked in early Q4/2019 on Trump sanctioning COSCO, not because 26 vessels in a global VLCC fleet of roughly 800 left the market—rather, supply chains suddenly woke up to geopolitical volatility. Say you're a trading house or a commodity user; do you want your cargo stuck out at sea because you chose the wrong company to transport it? Global trade developed a two-tier market of "good" and "bad" vessels and shipowners. Two-tier markets are inherently less efficient and while this sorted through the system, rates spiked. As these 26 vessels return to trade, the concerns over future trade restrictions remain. Even then, it is speculated that some of these vessels were storing crude. If 26 VLCCs return to active trade, wouldn't some of that storage need to be replaced? I see this as a minor disruption that should be more than offset by China's promise to increase imports of US energy products. Rough math says that the global fleet needs 40 to 60 incremental VLCCs to supply China with what they agreed to buy from USA.
So, returning to the thesis, nothing seems to have changed. If anything, it all looks better than expected to me. IMO2020 is acting as a gating function and older vessels are getting scrapped, or transitioning to storage. Furthermore, we're seeing tankers used to transport the 2 to 3 million bbl/d of HSFO that can no longer be burned by the global fleet. Where is this HSFO going? It's going to high spec refineries to be reprocessed, it's going to utilities to be burned for electricity, it's getting stored in tankers until owners can figure out what to do with it. All of this absorbs tanker supply. IMO2030 is a real thing. What will be the propulsion system of choice in a decade? If you don't know that, how do you order a vessel that won't be delivered until 2022? After many years of absence, geopolitics has returned to the shipping market. China agreed to buy a lot of US crude from very far away—further absorbing tanker supply. All of this is supportive of tanker rates, especially at a time when global order books are at unusually low levels. Even take Wuhan Flu—we're seeing China declare force majeure and vessels are starting to idle outside of ports. Do you think countries will accept cargoes from vessels that recently offloaded in China? 1-week quarantines of vessels could do a lot more than offset the 26 COSCO vessels. It could send rates back into the stratosphere. Finally, the very big picture says that incremental global demand for energy is coming from Asia and India, while incremental global supply is coming from the Gulf of Mexico, Brazil, West Africa, Guyana and potentially Venezuela if they can sort through their issues. Look at a map. These distances are substantially longer than routes from the Arabian Gulf to Asia or India. This absorbs vessels and despite all the moving pieces that impact short-term spot rates, this long-term salient fact doesn't seem to be changing.
Speaking of rates, historically, rates peak in mid-December and then rapidly fall off. There are a variety of reasons for this, but refinery maintenance, Chinese Lunar New Year and vessels joining the fleet in early January in order to have a later vintage date round out the key reasons. Rates stayed elevated until mid-January this year and remain at a premium to prior year rates, telling me that the market remains tight. We absorbed a lot of supply in 2019 yet the market is strong. There is real latent demand there.
How am I thinking about the recent sell-off? You can either think this is the end of the tanker bull market and panic, or you can treat this as an opportunity. I'm taking the latter view. V-Bottoms are hard to time and I've been a bit early in terms of adding. Then again, this won't be the first or last time I'm too early. If I'm right, a few days and 10% early won't matter much. I'm averaging in on a scaled basis.
In the end, if I believe this cycle continues, it all comes down to valuations—am I buying a cyclical market early in the up-cycle and at a great price? There are two ways to look at shipping company valuations, the crude way is to take the current NAV and adjust it for an anticipated premium or discount based on your view of tanker earnings in the near-future. The more analytical model takes the current NAV, adds in the next two years of cash flow and assumes the company will trade at that future NAV in 24-months. Why not look at depreciation? Because, despite depreciation being a very real expense when you have a piece of capital equipment with a 20-year lifespan, in strong markets, re-sale values actually increase—hence, not only do you not experience depreciation on your NAV, your NAV actually increases—which gives you a margin of safety in your analysis. Besides, it goes without saying that you don't buy shipping stocks unless you expect a strong market—hence we can pretty much ignore depreciation in our modeling. Yeah, I know, it's a cop-out but if I'm wrong on my rate thesis, I'm going to lose so badly based on that fact, that depreciation will be a rounding error.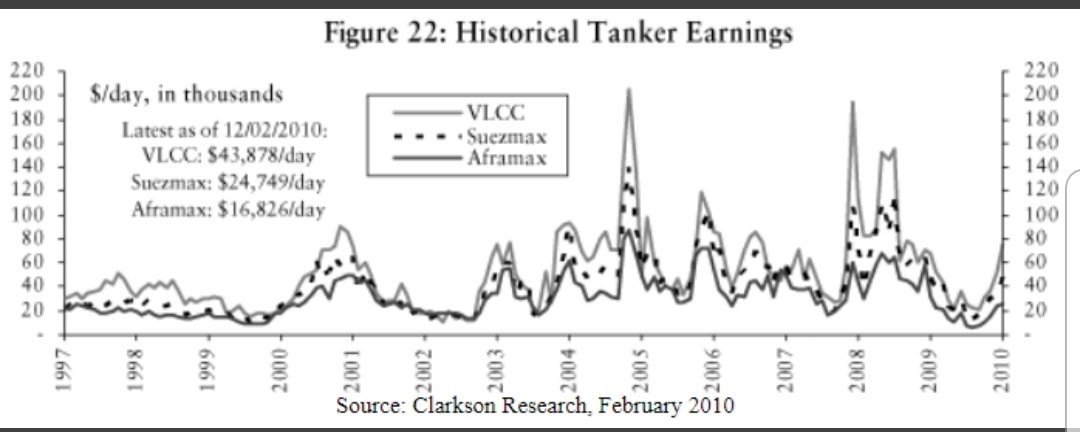 In terms of tanker rates, look at the rate progression above. This is what happened during the greatest bull market in recent memory. This is a bull market where many tanker stocks returned 10 to 50 times including dividends. Look at the peaks and troughs. Look at the seasonality. Look at the scary moments where rates went below operating expense. Frontline (FRO – USA) which became the industry benchmark had 4 drawdowns of over a third along the way. It even dropped peak to trough by 47% from 2005 to 2006. In the end, the macro tailwind won out.
Look at Euronav (EURN – USA) which is likely to become the benchmark of global tanker markets this cycle. In the fourth quarter, they had roughly $1.15 in cash earnings (remember to ignore depreciation). First quarter rates are mostly locked in and they'll add somewhere between $1 and $2 to this growing cash pile. Let's call it a conservative $2.50 in total cash earnings over a 6-month period. That's dramatic when you realize that the shares are trading a few ticks below $10. This cash is added to NAV, along with the increase in vessel values. By the end of Q1/2020, I suspect NAV will be somewhere between $14 and $16 a share. EURN is conservatively leveraged. They were actively buying back shares during the summer, at levels that are roughly here—even before they added $2.50 to their NAV. I suspect that they will turn on the buyback machine again, now that they are no longer blacked out on earnings. Meanwhile, they've committed to big payouts and that cash flow has to go somewhere. While rates are off from peak levels, they were still at multi-year highs for January. Using conservative assumptions, we could easily see a dividend rate between $1.25 and $2.00 per share for 2020, given their 80% payout rate for earnings. I recognize that my higher bound is a bit higher than many others, but my lower bound is likely spot-on, even if rates drop substantially from here. What is the right dividend yield for this business? I don't know, but $10 seems wrong—especially as the downside risk is so low due to such conservative financial leverage.
Go back to the great tanker bull market of 2002 to 2008. I hate to generalize, but given extreme differences in cap structures and use of proceeds, generalizing is the only way to go. Roughly speaking, NAVs increased by 3 to 5 times through retained earnings and vessel value appreciation. The rest of the total return of 10 to 50 times was a result of dividends and multiple expansion. Remember, these companies started off 2002 at large discounts to NAV, much like they started 2019 at discounts. That discount turned to a sizable premium to NAV by the end. Why? Because companies don't usually trade with double digit dividends unless there is a question about sustainability of the dividend. Shipping companies convinced the street that we had entered a "Permanently High Plateau." Sure, that's the reason for the collapse starting in 2009, but that collapse was driven by massive ordering of new vessels. Meanwhile, current ordering is anemic. The recent swoon will only serve to further postpone ordering and lead older vessels to getting scrapped. This extends the bull market and adds amplitude to future highs in charter rates.
In terms of my own portfolio, I have followed tankers for years. I know there's seasonality. I took a bit off the table in early January, primarily in Scorpio Tankers (STNG -USA). When I saw Bugbee sell his calls, I sold mine, along with a quarter of my common. I still own lots of Scorpio. I have been using this pullback to diversify my basket and have been adding to Euronav, DHT Holdings (DHT – USA) and Teekay Tankers (TNK – USA). I like to approach this sector with a diversified basket as there remain big questions as to scrubber economics, ideal fleet profiles and chartering strategies. I want to be long tankers, not individual personalities. Shipping equities may continue lower, or they may have bottomed this Friday. No one knows. What I do know, is that for the past year, the tanker companies that I own have used retained cash flow to de-lever. From a balance sheet and valuation standpoint, these stocks are substantially less risky than they were this time last year when I first started writing on the topic. Meanwhile, equity prices aren't that much higher. This seems like one of those great mis-pricings that only comes along once in a few years due to a confluence of factors. Then again, we may all be dead of Bioengineered-Wuhan-Zombie-Bat-Flu and oversold tanker stocks are the least of our worries. I like to play in the world of probabilities and I have been adding to my sizable tanker positions.
Disclosure: Funds that I control are long DHT, EURN, STNG, TNK