On Monday, I woke up, saw the SPZ futures down 60 handles, sorta shrugged my shoulders and tied up my boot laces. I checked some news and headed off into the caldera of a volcano for a hike. A few hours later, I rounded a turn, and my cellphone went positively bat-shit as a few-dozen delayed texts came live—something about a market collapse. On the following day, the market rallied strongly. As a hyper-concentrated small cap fund, over those two days, my portfolio swung around dramatically—at least a few times the volatility of the market's vacillations. I was sanguine. A younger version of myself would have cancelled the hike and stayed in my hotel room, trying to track the market's movements from my laptop. Fortunately, I've matured. I now know that there's nothing that I can do about volatility. It's part of the game. I know what I own, I know why I own it, and I don't care about the noise along the way. Sure, I've had a few wild days this week, but I'm on vacation. Besides, I've cashed in most of my Event-Driven positions, the crazy market moves don't matter to me. Meanwhile, I have no control over my longer-term positions—so I will let them happen.
I present this in direct comparison to so many of my friends (you know who you are) who are hyper-fixated on tomorrow's headlines and short-term moves. Seriously, name me some wealthy guys who day-traded their way to billions—everyone on the billionaire list created an amazing company, invested in an amazing company, or financially engineered a mediocre company. Seriously, no one day-traded their way there. It takes a holiday, when I'm focused on hiking around calderas to realize how petty the day-to-day trading is. We all fixate on it and worry what the most recent quote signifies, but zero value is gained.
You see, when bad news comes, you're either ready, positioned accordingly, or you're a victim. I don't intend to be a victim of volatility. I took my Event-Driven book down before my vacation, I know my longer-term book will be volatile and simply don't care. As I rounded that corner and heard all the text messages, I checked my quotes fast, sorta shrugged and went back to hiking. Sure, with increased volatility, there were suddenly plenty of Event-Driven opportunities, but I've been harvesting them all year. During volatility, there's free money on the screen, but there's always free money on the screen. I told myself, I'm on vacation, and I intend to remain on vacation.
I think of Event-Driven trading as an Olympic marathon endeavor. You are either focused and in the game, or you're on the sidelines. Guys on the sidelines have no edge against those who are in the prime of their game, fixated on their edge. I have done this long enough to know that I'm not competitive when on vacation—so I'm going to focus on my vacation, not downloading quotes, looking for some edge off my cell phone. Besides, this is a true combat sport. I've fought hard for 10 months, and believe strongly in taking about 2 months off each year. I want to come back in mid-January and be at the top of my game. I'm going up against the best of finance every time I put an order in. I want to be fresh.
With that out of the way, I'm in the Azores. I tried to go from Boston to the Azores last year, but some low-level shit-head at the airline decided that my government issued health-pass was invalid (yes, the airline apologized 2-weeks later, but it didn't save my vacation).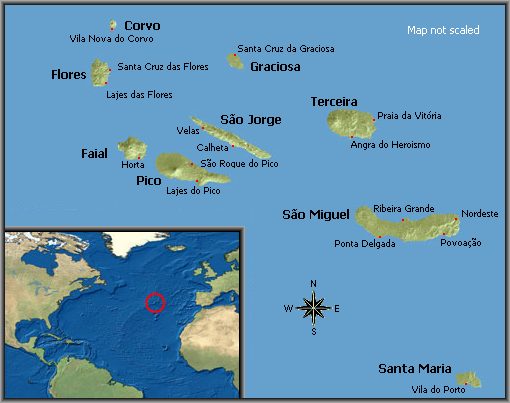 In any case, I finally made it to the Azores. I've been on the bigger island of Sao Miguel this week. Sorry, there's no deep-seated investment views. I'm on holiday, and want to escape the screens for a few weeks.
Tomorrow morning, I'm leaving Sao Miguel for Terceira island. There will be plenty more images. I'm on vacation, I intend to focus on my vacation. On January 16, I return. From that day onwards, will be focused on outperformance. For now, going to enjoy my holiday and re-boot.
If you enjoyed this post, subscribe for more at https://adventuresincapitalism.com