Which business am I? Would you be long or short?
In 2009, I had 2.1 trillion of revenue and 3.5 trillion of expenses, for an operating loss of 1.4 trillion.
For 2010, I'm predicting a small increase in revenues to 2.2 trillion while expenses stay roughly constant at 3.5 trillion. Through heroic efforts, losses will be staunched to only 1.3 trillion this year.
I am guiding to a trillion or so of losses in 2011 and am praying for a turnaround by 2012 so that losses drop to only 700 billion. Naturally, the analysts take our guidance at face value—even though I'm comically incapable of actually predicting results.
I have about 12.5 trillion in outstanding debt. Fortunately, the patsies that own this are willing to continue rolling it over into other non-covenant debt.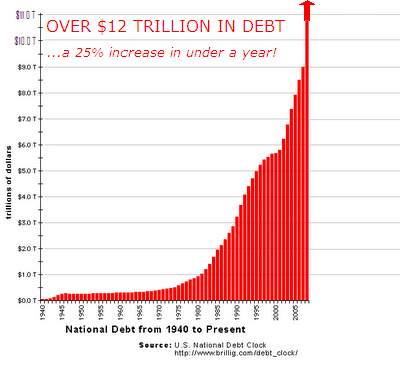 Of course, none of these figures include various off balance sheet liabilities which are dozens of times the size of the recent operating losses. In fact, you can say my accounting for most line items is dubious at best. Fortunately, I do not have to use GAAP accounting. I get to use an archaic system of make it up as you go accounting—where many liabilities and expenses are simply ignored.
None of this includes the various liabilities of my 50 unconsolidated operating subsidiaries (and Guam), which are in theory not guaranteed by the parent—but likely will be if there's a crisis.
I have a staggered board of 100 super directors and 435 simple directors. The combination of a staggered board and the gerrymandering of who gets to vote almost assures that a proxy battle will be nearly impossible. Like most entrenched and dysfunctional boards, the board members are more interested in creating obscure related party transactions than actually doing their job. These transactions often are akin to looting the company, yet the bylaws of the corporation claim they're legal.
A new CEO was recently elected with much fanfare, but a year into the job, he's done little except tilt at windmills. If anything, he seems to just be making bad problems worse. After promising to fix the system and clean house, he essentially reappointed as middle management, the same guys who created mess (Summers, Geitner, Bernanke, Yellen, etc).
The revenue of our corporation is somewhat fixed. It grows at a mostly constant pace based on the growth of economic activity. Therefore, to stop the losses, clear attention must be focused on the expense line items. However, like most empire building CEOs, the new guy is already looking at expensive new uncorrelated businesses (healthcare) and even a potential acquisition (Iran). Good luck trying to integrate that one. The employees at the last 2 acquisitions (Iraq & Afghanistan) have had some differences in culture, to put it mildly.
I could go on. Things sure seem bleak. Rather than fix problems, our dysfunctional corporation is looking for new problems. It's a much larger version of General Motors—where obvious problems did not matter, until they did.
If you haven't guessed it yet, this corporation is the US government, and it's heading for a crisis. Is there hope for this business? Of course there is. My grandfather always told me not to bet against the US. However, like many old companies, until there is a real crisis, change is impossible. No one wants to take the painful steps needed. I don't think the US is a terminal short, but it will face serious headwinds in the next decade.
For generations, investors have lost money betting on Armageddon. What is different now? I think the sheer size of the budget deficits mean that a problem is imminent. This doesn't mean it won't take another five years for there to be a problem. However, as investors begin to recognize the magnitude of the problem, they will slowly begin to act. In fact, they already have started to act.
As it stands right now, even if the government abandons Afghanistan and Iraq, eliminates a lot of pork and seriously tries to make cuts in other places, the budget would be nowhere close to balanced. The government could try to raise taxes, but I see that as being very difficult politically. The government could try and make serious cuts to social programs, but that would likely be even more difficult. Of course, the economy can recover and the government can possibly outrun its deficits—at least for a while—but Social Security and Medicare are the two real elephants in the room. In the next few years, they will simply trample down on any breathing room created by budget cuts.
Budgets do not need to be balanced, but deficits need to be reasonable. Ours are nowhere close—and they will likely get worse as the baby boomers retire. Maybe China will simply finance our profligate budgets forever. Maybe that is just easier for them? I don't know. I just know that a country cannot run deficits of the magnitude that we are and get away with it for long. There will be consequences.
This is what likely happens; the government finds new and creative ways to waste money. They will try to raise taxes, but it just won't have much impact. You cannot tax your way out of this problem. You need to cut spending and no congressman will ever vote for that—not yet at least. Eventually, holders of bonds will lose faith in our ability to stop spending. Either they'll sell their bonds, or simply stop showing up for endless auctions. Who's going to buy a trillion and change worth of bonds every year? There isn't enough money in the world to continue this charade forever.
At some point, the bond market will go into freefall and the government will not be able to fund itself. The government will either need to buy those bonds and monetize the debt, or default. A default is unlikely and rather improbable as long as our bonds are denominated in a currency that we can print. Think Argentina.
When we print money, it's very inflationary. We've already started this process. As we have difficulty selling more bonds, we will almost have no choice. You've all heard this story before. It's been wrong for decades. I think it will ultimately be right. Look at gold. It's up more than four-fold from the lows. I think the real move is just starting. People have finally figured it out.
Yes, gold earns nothing. There's no interest. No return on capital. You can't eat it. You even have to pay money to store it. It really should have no value. It's useless. We all know the facts. However, let's look at some different facts.
Gold is just another commodity. Let's ignore the doom and gloom macro aspects of it for now. Treat it like any other commodity—especially because about 70% of end demand is jewelry, industrial and dental. Like all commodities, over time, it should trade at a small premium to production cost to compensate those who produce it and let them earn an adequate return on invested capital. What is the cost of producing it?
If you listen to a mining company, they'll talk about their cash cost per ounce. For the industry, the cash cost per ounce averaged $450 last quarter. However, this is just a starting point when thinking about the true cost of producing that gold.
Accounting for mining companies is very complex. During the twenty year bear market in gold from 1980 until 2000, mining companies became desperate for investment. They deliberately tried to convince investors that the true costs were lower than they were. For the most part, they seem to have achieved their goals by directing people to focus on the cash cost of gold. If people looked at the real cost, they would have realized that most mining companies were either losing money, or living off past investments and running those investments through the income statement.